Haringey Patient Participation Groups (PPG) Conference Report 2021
Healthwatch Haringey hosted an online PPG Conference on Saturday 19 June 2021 from 11am to 2pm, comprising opening and closing sessions, a keynote speaker, and three workshops.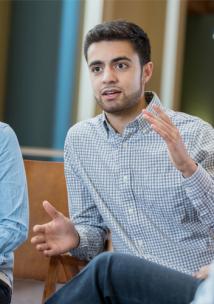 The Conference was an opportunity for PPG chairs and PPG members in GP practices across Haringey to further develop links; share experiences, resources, and skills; and discuss the most relevant issues and challenges facing primary care at this time. 
Over 55 people attended the Conference, representing 18 Haringey GP practices. 
The agenda for the Conference was produced by the PPG Development Steering Group and included guest speakers and key themes suggested by PPG members at Haringey PPG Network meetings and PPG meetings facilitated and attended by Healthwatch Haringey in the nine months leading up to the Conference.
Highlights of the PPG Conference 
Sharon Grant OBE introduced keynote speaker Roger Kline, designer the Workforce Race Equality Standard (WRES). Roger spoke about the disproportionate impact of Covid-19 on NHS staff from a BAME background.
Councillor Pippa Connor chaired the workshop on the changing shape of GP services
Haringey GP Sheena Patel led an interactive session asking you 'What would you tell your GP to help improve their service?'
Esther Meyerson and Rose Echlin shared their extensive knowledge and experience of running a PPG
Geoffrey Ocen from Bridge Renewal Trust joined Haringey Council to tell us what's happening in the Voluntary and Community sector
Key recommendations from the PPG Conference
Patient representation The Haringey PPG network should make a representation to the ICS Chair to raise the issue of member representation and ask for meetings. The Haringey PPG Network should seek to join with other PPG networks across the five boroughs to link in with the ICS Chair.
PPG role Practice staff should be open to patient feedback, helping to organise and facilitate PPG meetings and making sure the patient voice is heard. Practice staff and GPs should prioritise patient voice and work in partnership with their PPG. It is really important for GPs and practice staff to hear from patients at a time when GP services are changing so much.
Experts by experience Carers and service users' voices should be at the table as experts by experience alongside health and care staff. All similar future events and meetings should have service user speakers represented equally around the table.
Full Conference report including key themes and recommendations