PPG Conference highlights the changes in the NHS and how patients can make their voices heard
Healthwatch Haringey hosted the first pan-Haringey Patient Participation Group (PPG) Conference on 19 June. It featured workshops on the changing face of primary care, running a PPG, and what's available in the voluntary and community sector.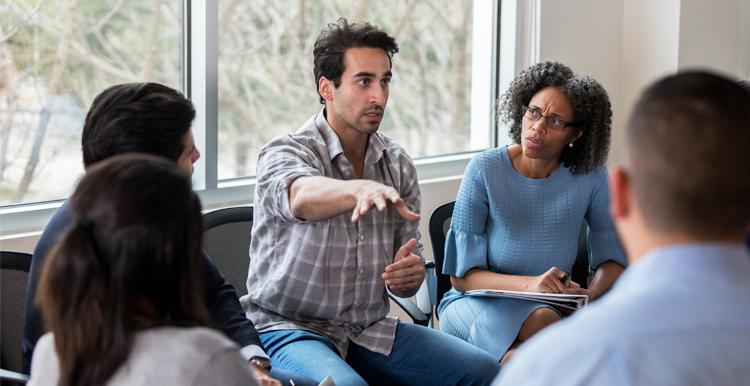 Over 55 people attended the conference on Saturday 19th June.
Sharon Grant, Chair of Healthwatch Haringey, introduced keynote speaker Roger Kline, author of Snowy white peaks of the NHS. He told the conference that in the first 3 months of the pandemic more than 300 health workers died of COVID-19 and 60% were from Black, Asian and other ethnic minority groups. An ITV survey also confirmed that Black, Asian and other ethnic minority staff were disproportionately assigned to 'hotter' areas of the hospitals. They were more likely to be denied PPE.
"The NHS took the extraordinary decision to stop collecting workforce race equality data during the pandemic on the grounds that it wasn't a priority" said Roger.
The workshop on changes to GP services was introduced by Councillor Pippa Connor, Chair of the Joint Health Overview and Scrutiny Committee. Owen Sloman, from North Central London Clinical Commissioning Group (NCL CCG), presented an item on Integrated Care Systems (ICS).
He said: "Integrated Care Systems are partnerships that bring together providers and commissioners… It's about us all working together to deliver the best possible outcome, greater integration of health and care services".
Rod Wells from Haringey Keep Our NHS Public responded, "Integration at patient level is positive but the Government White Paper is talking about financial and structural integration, and it's a means of saving money by reducing hospital beds and face-to-face consultations with GPs. Private companies can be on the Boards of the ICSs".
In Workshop 2, PPG Chairs shared their experience of running PPGs under conditions of COVID-19.  Esther Meyerson, Chair of Staunton PPG,  was clear about the role of communication: "One of the most important things for the success of any PPG is communication, and this is highlighted even more since the pandemic. We have regular PPG meetings… We have agreed means of communications and ad-hoc meetings with Practice Manager and clinicians when needed".
Rose Echlin, Chair of Queens Avenue PPG, has been working in partnership with two practices during a merger. She had some advice for practice staff. "It's always better to tell patients the truth because they are going to find out sooner or later, so you might as well tell them up front!".
The key takeaway from Workshop 3 on Voluntary and Community Services in Haringey, was summed up by a PPG Member: "People commissioning services and decision makers funding design of services need to recognise that people who use services such as Carers are 'Experts by their own Experience' and know more about the services being at the sharp end than officials and professionals".
Recommendations from the PPG conference included
Patient representation The PPG network should make a representation to the ICS Chair to raise the issue of member representation and ask for meetings. The PPG Network should seek to join with other PPG networks across the five boroughs to link in with the ICS Chair.
PPG role Practice staff should be open to patient feedback, helping to organise and facilitate PPG meetings and making sure the patient voice is heard. Practice staff and GPs should prioritise patient voice and work in partnership with their PPG. It is really important for GPs and practice staff to hear from patients at a time when GP services are changing so much.
Experts by experience Carers and service users' voices should be at the table as experts by experience along with other experts. The next PPG conference should have service user speakers equally around the table.
The full Conference Report is available here
"My main concern is that those most in need of clinical support are more likely to experience digital poverty/exclusion than the more general population and so find it harder to engage with services. This could easily lead to delayed care and poor outcomes."
Accessing GP services
Tanya Murat from Healtwatch Haringey introduced the report 'Accessing GP services: Evaluating phone, video and face-to-face appointments in Haringey' and shared key findings and recommendations. There had been a clear negative impact on some patients in the move away from face-to-face consultations. Most patients expressed a concern about this, either for themselves or for other patients who experience language barriers, mental health issues, multiple illnesses, or some disabilities.
What would you tell your GP to help improve their service?
In the closing plenary Dr Sheena Patel introduced an interactive session. She noted that the pressure on GP workload is intense but GPs are pushing back on the digital pathway for everybody and are working towards everyone getting a choice of how they want to be seen.
A quick patient poll on changing GP services at the conference discovered:
Making an appointment with their GP has got harder in the last 15 months for 70% of the participants and 43% were finding it difficult to get through to the surgery on the phone.
The use of digital platforms was problematic. Only 13% found it easy to use E-consult to make an appointment whereas 48% did not.
Sharon Grant wrapped up the conference by thanking all the participants and encouraging PPG Members to use the online resources. The PPG network and patients voice are particularly important now because of the huge changes with the Integrated Care Systems.
Training for PPG Members
Heathwatch Haringey is providing resources to support PPG Members to run their PPGs.There are two 'how to' sessions available for PPG members to use the Zoom video communication platform to host their meetings online. These sessions are suitable for PPG members who already have some experience of attending Zoom meetings.