Healthwatch Haringey starts project to make it easier to register with a GP
How easy is it to register with a GP? Many Haringey practices insist on ID or proof of address. People who are experiencing homelessness, domestic abuse survivors and recent migrants are some of the people most likely to be turned away.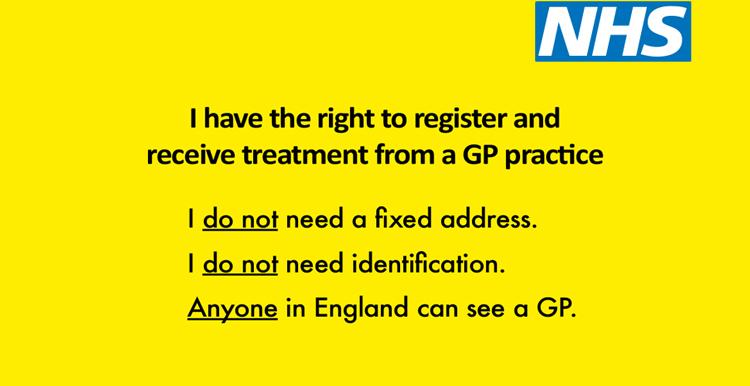 We have been contacted by a number of local people who told us they found it difficult to register with some Haringey GPs as the reception staff insisted on proof of address or identification. This can be difficult for some people, particularly those who are recent migrants, people who are experiencing homelessness or survivors of domestic abuse.
There are many reasons why people do not have ID or documentation showing their address. Some groups of people this particularly affects include:
People fleeing domestic violence staying with friends or family.
People living on a boat, in unstable accommodation or street homeless.
People staying long term with friends but who aren't receiving bills.
People working in exploitative situations whose employer has taken their documents.
People who have submitted their documents to the Home Office as part of an application.
People trafficked into the country who had their documents taken on arrival.
Children born in the UK to parents without documentation.
None of these people should be prevented from registering with a GP. Having ID and proof of address is useful for practice staff, and it is right to ask for them. But everyone has a right to register with a GP even if they don't have these documents.
GP Registration - our research
From October 2022, Healthwatch Haringey will be checking every Haringey GP practice to find out if they will register a new patient without proof of address or ID. We will also be finding out if practices offer an interpreter service and / or help with completing the registration forms.
We will do this by 'mystery shopping' GP practices through phone calls and practice visits.
We will be producing hard copy leaflets and posters in community languages, letting people know their right to register with a GP.
We want to make sure that practice staff know what the rules are and know how to help people who can't provide ID.
Safe Surgeries
A 'Safe Surgery' is any GP practice which commits to taking steps to tackle the barriers faced by many migrants in accessing healthcare. A Safe Surgery will make sure that lack of ID or proof of address, immigration status or language are not barriers to patient registration.
Currently, there are 24 Haringey GP practices registered as Safe Surgeries. We want to increase that number, and find out if staff understand how they need to work to make sure they are a Safe Surgery in practice as well as in name.
Following our research we will promote the list of Safe Surgeries found to be complying with the guidance and not requiring ID or proof of address to register a patient. They will be listed on our website, in our leaflets and on our posters.
Who will we be working with?
The Homeless Health Inclusion Team, Haringey GP Federation.
Organisations in Haringey who support migrant communities or refugees, people who are homeless and other vulnerable people.
Local food banks.
Doctors of the World who run the Safe Surgeries scheme.
Haringey Council's Public Health department.
NHS North Central London Integrated Care Board.
Do I need a proof of address or ID to register with my GP?
Having proof of where you live and ID helps but, NHS guidelines make clear that it is not necessary for you to have a proof of address or ID when registering with a GP. This also applies if you are an asylum seeker, refugee, someone experiencing homelessness or an overseas visitor, whether lawfully in the UK or not.
Primary Medical Care Policy and Guidance Manual (PGM)
This guidance for staff in GP surgeries makes it clear that inability by a patient to provide identification or proof of address is not considered reasonable grounds to refuse to register a patient.
All Haringey surgeries should be following this guidance.
See p154 - Requesting documentary information from patients.