Healthwatch Haringey Annual Report 2021/22
This was another challenging year for health and care services, and people wondered whether services would return to "business as usual" or whether they had changed for the long-term.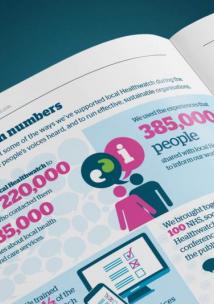 At Healthwatch Haringey we have listened hard to patient voices and conveyed patient expectations and disappointments to service providers and decision makers. Our annual report showcases two of our key projects this year:
Making GP services more accessible
Through our Haringey GP stocktake, we assessed phone systems, appointments and websites across all 40 GP practices in Haringey. North Central London (NCL) Clinical Commissioning Group (CCG), GPs and Practice Managers are using our findings and recommendations to make GP services more accessible to everyone.
Amplifying patient voices through supporting and strengthening Patient Participation Groups (PPGs)
We brought PPGs together across Haringey through our PPG Conference and our PPG Network meetings. We ensured PPG feedback was used to improve GP services, and this is very important at a time when the pandemic has meant huge changes in the way GP services are accessed and delivered.
Our annual report also features the work we have done around digital exclusion, the COVID-19 vaccine, young people and mental health, Long COVID, and engaging with ethnic minority women.  
Throughout the year Healthwatch Haringey has worked hard to ensure people's worries and anxieties, and the challenges they face in accessing health and care services, are listened to, and acted on, by commissioners and providers.  
How would the exhausted NHS and social care services emerge from the coronavirus pandemic? Would there ever be a resumption of services as usual? Or have things changed forever as a result?
Highlights from our year
We heard from 652 people about their experiences of health and social care through surveys, service user groups, meetings, focus groups and interviews. They helped raise awareness about issues and improve care.
We provided advice and information to 172 people.
We published seven reports about the improvements people would like to see to health and social care services.